Samsung i9082 Galaxy Grand Duos 8Gb Review
Samsung i9082 Galaxy Grand Duos – Technology dual sim with 8 MP camera
To deepen Samsung domination in the smartphones market, after Samsung launched the Galaxy Note with targeted market are high class, Samsung also launched the Samsung i9082 Galaxy Grand Duos with much cheaper price intended to mid-range market. It comes with dual SIM so you can able to maintain your SIM business and the other with just one phone, Galaxy Grand also still reinforced some excellent features of the galaxy series. What are the Samsung i9082 Galaxy Grand Duos features?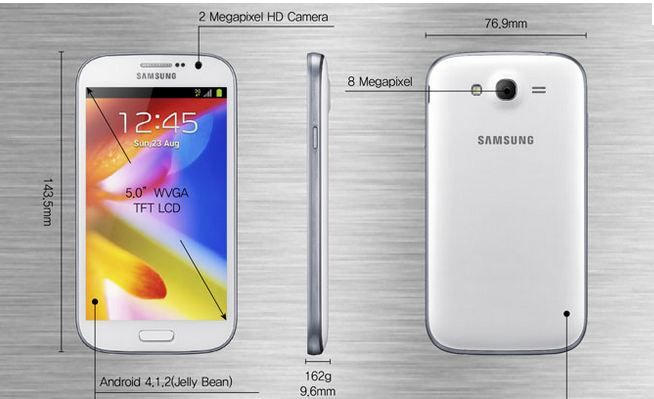 Samsung i9082 Galaxy Grand Duos 8Gb Review
Samsung i9082 Galaxy Grand Duos Features :
2G Network GSM 850 / 900 / 1800 / 1900 – SIM 1 & SIM 2
3G Network HSDPA 850 / 1900 / 2100 – SIM 1 only
SIM Dual SIM (Mini-SIM, dual stand-by)
OS Android OS, v4.1.2 (Jelly Bean) CPU Dual-core 1.2 GHz
Internal 8 GB, 1 GB RAM
Dimension : 143.5 x 76.9 x 9.6 mm, 162 gram;
Samsung i9082 Galaxy Grand Duos supported with two SIM cards. Just as the name implies, Samsung Galaxy Grand Duos pined with 2 SIM card slots to make it easier for the users that has multiple SIM, ie for business and family, so you don't need to carry two phones everywhere. The newest smartphone that launched after Samsung Galaxy Ch@t is using the latest dual SIM dual Standby, which means both cards still active even though one SIM card is being used. It is really the nice part of this Samsung i9082 Galaxy Grand Duos.
If we look from the design, Samsung Galaxy Grand Duos just like samsung galaxy s3 mini except it's thickness. Also, with 8 MP camera make you able to make use of this phone as replacement of your digital camera or DSLR, it is really an advantage when you need to take picture but not carrying any camera. This Samsung i9082 Galaxy Grand Duos able to make HD picture, that's really great and I think it is not just a replacement anymore right, more like able to be your primary camera.
Move to it's specifications, the Samsung i9082 Galaxy Grand Duos provides a large 5-inch screen with a resolution about 480x800px. Using Andorid OS version 4.1.2 Jelly Bean, that is also one that make this smartphone perfect, using the newest android OS make so many people want to try it's feel of course. Dual cameras are also pinned on the front and rear, 2 MP for the front camera and 8 MP for the primary camera that able to record full HD video up to 1080p. This Samsung i9082 Galaxy Grand Duos really is amazing, just like what I said, you can use this smartphone as your primary camera, even with a cheaper price then when you buy camera digital or DSLR. Well, Samsung i9082 Galaxy Grand Duos is still new product so not many users give their opinion about this phone, but you can be the one to use it and feel it yourself. Enjoy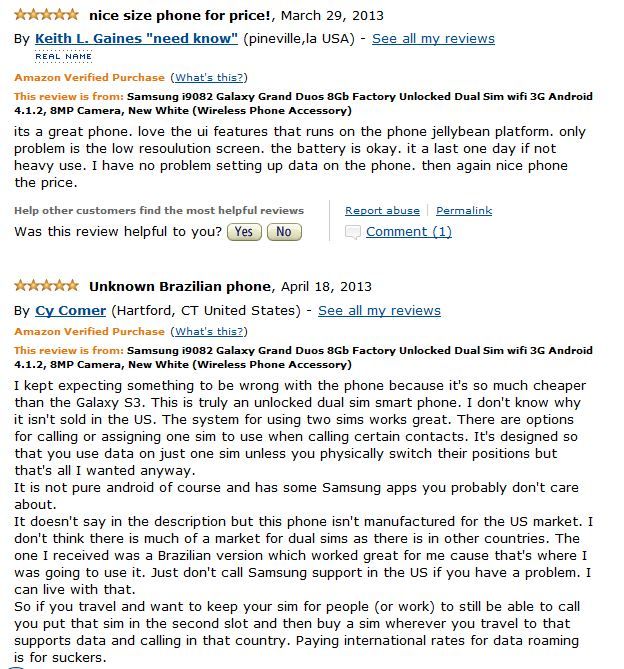 Samsung i9082 Galaxy Grand Duos Review
Related item :


---
Samsung Galaxy Grand Duos GT-i9082 Blue (Factory Unlocked) i9082 , Dual Sim , 8GB.
---
Perfect for today's high-performance Android smartphone and tablet users who want to get the most out of memory-intensive activities like 3-D gaming and apps, the SanDisk Mobile Ultra microSDHC UHS-I card drives transfer speeds of up to 30MB/s for faster app response times. For shooting Full HD video and high-megapixel pictures, it delivers two times the speed of typical microSD memory cards and a class 10 rating for the highest video recording performance available. In addition, the included SanDisk Memory Zone app lets you easily view, access, and backup all of your digital files from your phone's memory, additional memory card and cloud services all in one convenient place.
---
The Samsung Galaxy S Duos S7562 is an Android OS v4.0 with a 4-Inch TFT capacitive touchscreen that is dual SIM. It features a 5 MP camera, autofocus LED Flash and VGA@30fps. It has A-GPS support, Bluetooth v3.0 and Wi-Fi.
Get update with our newslater (it's free)
Cat :
Android
,
Electronics
,
Samsung
,
Smartphones
, tags:
android smartphones
,
camera
,
Galaxy Grand Duos
,
galaxy series
,
samsung android
,
Samsung Galaxy Grand Duos
,
Samsung i9082 Galaxy Grand Duos review
,
smartphone
Comment For Samsung i9082 Galaxy Grand Duos 8Gb Review