Olympus TG-1iHS 12 MP Waterproof Camera With 4x Optical Zoom
A Waterproof Digital Camera in Presence of Olympus TG-1iHS give so many things to discover
Well, last month has time for the Olympus TG-1iHS, introduce a nice camera with waterproof technology. Using camera while diving will be more interesting right. However, it is not like a GoPro one that really made for adventure. The Olympus TG-1iHS is a usual digital camera that bring new innovation to take an advantage of waterproof technology. So, what important things of this Olympus TG-1iHS?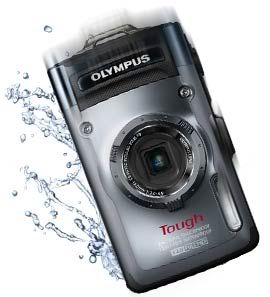 Olympus TG-1iHS 12 MP Waterproof Camera With 4x Optical Zoom
---
12 Megapixel BSI CMOS Sensor with Full HD Video with HDMI, Multi-Motion Movie IS Waterproof (12m/40 ft), Shockproof (2m/6.6 ft) and Freezeproof (-10C/14F) 8x Super-Resolution Zoom and F2.0 Hi-Speed Lens and 4x Optical Zoom iHS Technology GPS & eCompass Crushproof 220 lbf. 3.0-Inch screen and 610k OLED
Olympus TG-1iHS Features and Specs :
12 MP camera BSI CMOS Sensor
Full HD Video HDMI – Multi Motion Movie IS
Waterproof up to 40 feet/or 12 meters
Shockproof up to 6.6 feet/2 meters
Freezeproof up to -10°C/14°F
Included iHS Technology
GPS and eCompass
8x Super Resolution Zoom and F2.0 Hi-Speed Lens and 4x Optical Zoom
3.0-Inch screen and 610k OLED technology
Crushproof 220 lbf
Depending on the features, the Olympus TG-1iHS has a great shape with excellent material to protect the camera itself from water, broke, or even freeze. I think it will be nice for your adventure remembering this nice endurance. Then, the Olympus TG-1iHS also using a newest technology that allow you to take such a wonderful pictures.The Olympus TG-1iHS appears great and seems so sturdy. It is not outsized like the Canon, and never hole-feeling just like the Nikon. It simply looks like a effectively construct machine, and this is really suitable for anyone.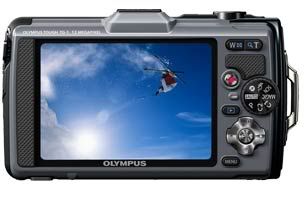 Olympus TG-1iHS 12 MP Waterproof Camera With 4x Optical Zoom
The Olympus TG-1iHS give a good responsibility when take a pictures. With out having to decrease the resolution of the pictures, you'll be able to take 6 frames per seconds, which is similar as the Canon 5d mark III, it is great isn't it? Actually In fact, it takes footage so quick that once you playback in the digital camera, it reveals them in succession like a movie. This was an incredible method to watch your girl friend dive in swimming pool then come to you! Perfectly nice timing and good job for the Olympus TG-1iHS.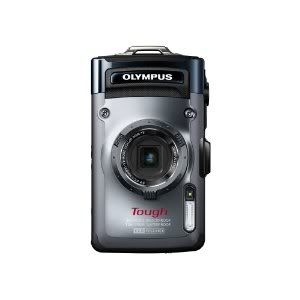 Olympus TG-1iHS 12 MP Waterproof Camera With 4x Optical Zoom
The Olympus TG-1iHS also give a fantastic image quality. On both the Canon and the Nikon I always felt let-down by my end results. Something about these underwater cameras makes them produce photos with out enough contrast. Which means that the images would lack the "POP" that I like so much in common photography. In fact you possibly can artificially add this in post-processing, nevertheless it's an extra step I don't need. This Olympus TG-1iHS doesn't endure from this downside so the pictures actually look great straight out of the camera. I highly recommended this Olympus TG-1iHS for you.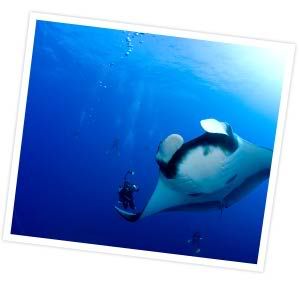 Image quality of Olympus TG-1iHS 12 MP Waterproof Camera
Related to Olympus TG-1iHS :
---
Get the perfect balance of speed and reliability for high definition video and faster shot-to-shot performance with SanDisk Extreme HD Video SDHC cards. Delivering Class 10 video performance with up to 45 MB/sec read/write speeds, you'll be ready to capture HD video on the latest digital point & shoot cameras and DSLRs that have high-definition video recording capabilities. Go with the latest in SanDisk memory optimized for video, and enjoy the ultimate in performance and high-def clarity.
---
The Canon 6145B100 PowerShot D20 12.1MP Outdoor Camera can handle it all. This camera is waterproof to 33 feet, temperature-resistant from 14°F to 104°F, shockproof up to 5.0 feet, and equipped with a GPS tracker. Slim and sturdy with a highly visible color layout, its buttons are operable even with gloved hands. Spectacular image quality is ensured with the 12.1 Megapixel High-Sensitivity CMOS sensor and DIGIC 4 Image Processor for excellent low-light performance, and a 5x Optical Zoom with 28mm Wide-Angle Lens that brings excitement to your imaging. A single touch and you will be shooting incredibly vivid 1080p Full HD Video with full zooming capability. Lots of optional accessories take you deeper underwater and more.What's in the box: Canon PowerShot D20 Waterproof Digital Camera (Blue), NB-6L Lithium-Ion Battery Pack (3.7v, 1000mAh), CB-2LY Battery Charger for Canon NB-6L Lithium-Ion Battery, IFC-400PCU USB Interface Cable, Wrist Strap WS-DC8, Strap Mount, Digital Camera Solution CD-ROM and Limited 1-Year Warranty.
---
A new era in Micro Four Thirds technology is about to begin. The new, revolutionary mirrorless camera, the OM-D E-M5, has an exceptionally light and compact body. Its Electronic View Finder enables photographers to check exposure levels, white balance and preview Art Filter effects in real-time.What's in the box: Olympus OM-D E-M5 Micro Four Thirds Digital Camera (Body Only, Black), FL-LM2 Flash Unit, BLN-1 Lithium-Ion Battery, BCN-1 Battery Charger, Body Cap, USB Cable, A/V Cable, Shoulder Strap, Olympus Viewer 2 CD-ROM and 1-Year Limited Warranty.
Get update with our newslater (it's free)
Cat :
Camera & Camcorder
,
Electronics
, tags:
best olympus camera
,
best water proof camera
,
olympus camera
,
olympus camera waterproof
,
Olympus TG-1iHS
,
Olympus TG-1iHS review
,
olympus waterproof camera
,
waterproof camera reviews
Comment For Olympus TG-1iHS 12 MP Waterproof Camera With 4x Optical Zoom