by guestfans posted on Saturday, April 7th 2012.
---
---
Amazing
Genius SP-GX i250G – Amazing and portable speakers with newest technology from Genius
Look likes that Genius want to make a sensational speaker with the result on Genius SP-GX i250G. Actually, this Genius SP-GX i250G is amazing if you see the excellent shape from this speaker. You will see more of this speaker.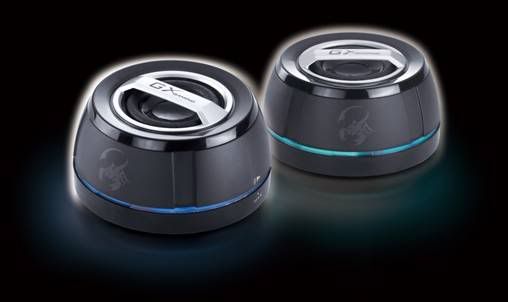 Genius SP-GX i250G – Newest Speaker by Genius
Genius announces the latest portable speakers, Genius SP-GX i250G. Speakers that can be taken anywhere the user wants it perfect for listening to music, watching movies and playing games.
As reported by Ubergizmo, stereo speakers are claimed to produce a rich audio and more alive. Speaker port supports a 3.5mm audio jack as well as omni-directional 40mm neodymium driver. Genius SP-GX i250G also has a unique form called twistable body.
Twistable body from Genius SP-GX i250G that can play allows the user to be able to turn on or off and adjust the speaker volume. There are LED lights that circle around these new speakers whose color can be alternated when the user is playing music. Excellent Genius SP-GX i250G.
Genius is priced speakers made $49,99. Genius SP-GX i250G powered by a lithium battery that is claimed will provide the ability to live up to eight hours to completely charge. Users can also perform battery charging via USB port support. What do you think about this Genius SP-GX i250G?
Regarding the specifications, the Genius SP-GX i250G speakers provides a frequency response of 250 Hz ~ 20KHz, 470mAh battery, better Signal-to-noise of 80 dB fiber 6 watts RMS. Portable speakers that give remarkable sound experience is reportedly only available in the United States and Canada. So, i think I'm in love with this Genius SP-GX i250G.
Related to Genius SP-GX i250G :
Get update with our newslater (it's free)