Genius SP-GX i250G – Newest Speaker by Genius
Genius SP-GX i250G – Amazing and portable speakers with newest technology from Genius
Look likes that Genius want to make a sensational speaker with the result on Genius SP-GX i250G. Actually, this Genius SP-GX i250G is amazing if you see the excellent shape from this speaker. You will see more of this speaker.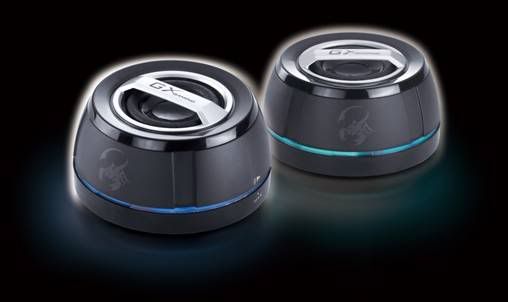 Genius SP-GX i250G – Newest Speaker by Genius
---
Genius presents a new set of portable stereo gaming speakers, SP-i250G, for the GX Gaming line. SP-i250G has two Omni-Directional stereo speakers that provide vivid and rich audio. The advanced 40mm neodymium speakers provide deep low notes in a small portable cabinet. Also, you can just use one speaker with any audio device. SP-i250G uses a special mechanical to turn the power on/off and adjust the volume by twisting the middle cover. As an added feature, an LED ring in the middle of the speaker will change different colors when music is playing. The gold-plated plug makes sound signal transmission smoother and decreases noise. There is a pouch for each speaker and charging is easy using a USB port. SP-i250G brings amazing dynamic sound performance when you are playing games or listening to all kinds of music anywhere.
Genius announces the latest portable speakers, Genius SP-GX i250G. Speakers that can be taken anywhere the user wants it perfect for listening to music, watching movies and playing games.
As reported by Ubergizmo, stereo speakers are claimed to produce a rich audio and more alive. Speaker port supports a 3.5mm audio jack as well as omni-directional 40mm neodymium driver. Genius SP-GX i250G also has a unique form called twistable body.
Twistable body from Genius SP-GX i250G that can play allows the user to be able to turn on or off and adjust the speaker volume. There are LED lights that circle around these new speakers whose color can be alternated when the user is playing music. Excellent Genius SP-GX i250G.
Genius is priced speakers made $49,99. Genius SP-GX i250G powered by a lithium battery that is claimed will provide the ability to live up to eight hours to completely charge. Users can also perform battery charging via USB port support. What do you think about this Genius SP-GX i250G?
Regarding the specifications, the Genius SP-GX i250G speakers provides a frequency response of 250 Hz ~ 20KHz, 470mAh battery, better Signal-to-noise of 80 dB fiber 6 watts RMS. Portable speakers that give remarkable sound experience is reportedly only available in the United States and Canada. So, i think I'm in love with this Genius SP-GX i250G.
Related to Genius SP-GX i250G :
---
Genius brings you amazing bass enjoyment for music and gaming enthusiasts with this new speaker system, SW-G2.1 1250. Its subwoofer uses an advanced 5.25" drive unit in an ultra-rigid MDF board cabinet, so you can be encompassed by solid, deep and extended bass. The curvaceous satellite speakers with magnetically-shielded 3" cones deliver full midrange and well-balanced detailed sound. The individual control box makes it easier to adjust the volume and bass. There is also microphone jack on the control box for chatting with on-line game partners. SW-G2.1 1250 has a 3.5mm standard input for PC game and MP3/CD player users, and a 2RCA jack for game consoles, DVD players and TV listeners. It also has a headphone jack for private listening. So don't hesitate anymore, experience the 38-watt dynamic booming sound of the SW-G2.1 1250. For more information, contact your local sales representative.
---
SP-HF1800A is the new 3-way Hi-Fi wooden speaker system with 50 watts RMS audio output. With this 3-way design, SP-HF1800A uses Hi-Fi crossover technology that makes each speaker unit respond to high, middle and low frequency respectively. SP-HF1800A integrates all sound into the perfect enveloping effects around the listener with magnificent, balance, vivid, and richer quality. The middle driver uses the 4" close frame speaker unit to deliver more accurate sound performance for vocal and most instruments from 500Hz to 7,000 Hz frequency. The lower 4" woofer is for long and deep bass without distraction less than 500Hz frequency. For personal sound preference, just adjust the Bass and Treble controls. There are two audio inputs with 2RCA and 3.5mm sockets, on the back for connection to PC/TV/DVD player/Game consoles. It also has an extra line-in jack on the front panel for connecting to an iPod, MP3 player, or CD player without disconnecting the speakers from the PC. And, it has a headphone jack for private listening.
---
To enjoy music without limit, Genius presents new portable speakersnot seen before, SP-i160. You can enjoy music anywhere for up to eight hours with the built-in battery. SP-i160 uses an advanced flexible structure with a 1.25" metal driver to make the sound broader than speakers on a notebook. Charging is simple; just plug it into the USB port of a PC/Notebook. Two colors are available, polished black and white.
Get update with our newslater (it's free)
Cat :
Audio
,
Electronics
,
Speakers
, tags:
genius sp
,
genius sp-gx i250g
,
new speakers
,
omni directional speakers
,
omnidirectional loudspeaker
,
pc portable speakers
Comment For Genius SP-GX i250G – Newest Speaker by Genius