Descriptive Camera – Take photos in a Text
Descriptive Camera – Unique camera that use for take a photos in a text form
Introduce a Descriptive camera, a genius camera that could take a photos as a text. May it is not exactly about this mean. You will know how this camera will work effective for you. However, it will be a nice function for some of you that need to take a description for some photos.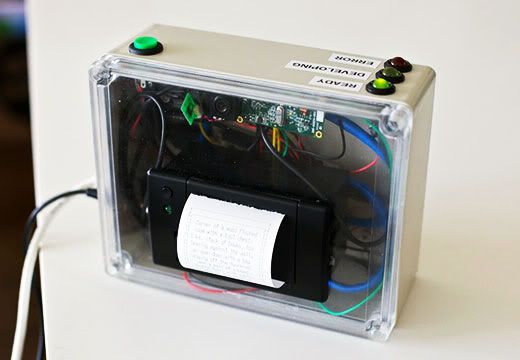 Descriptive Camera – Take photos in a Text
Almost of all cameras can certainly produce output in the form of images or pictures. But, a New York University students now develop a camera that can describe the image in the form of words or text. Of course it is amazing remembering he is a student can build a unique camera with a simple forms.
Name of this unique camera is Descriptive Camera. The camera itself was developed by Matt Richardson, who is a computer programmer as well as photographers. According to him, Descriptive Camera works by capturing an image and send that image to the Amazon Mechanical Turk. Once delivered to the Mechanical Turk, then the description of the images will be processed and then the results will be forwarded back to the camera in 6 minutes. Well, know we are know how this camera can work exactly.
In other words, Descriptive Camera does not process the image in the form of text automatically, but must be seen first by someone who was in the Amazon Mechanical Turk, then this person sent back to the image data in the form of Descriptive text to the Camera.
A thermal printer will then print the text in the description of Polaroid style. The idea is quite interesting, I think these cameras will be very useful, especially for those who have a shortage in sight. Even you are a normal people, Descriptive Camera will still useful to make a short description for your image.

Descriptive Camera – Take photos in a Text
Related to Descriptive Camera :
---

The SP 70-300mm f/4-5.6 Di VC USD Lens is the telephoto zoom that's a great way to capture the images before you. This is the Tamron Anniversary lens and is the first Tamron optic that incorporates an Ultrasonic Silent Drive (USD) for fast, quiet and precision autofocusing. This Vibration Compensation (VC) lens will allow you shoot up to four stops slower than would be possible with a non-VC lens, so you can shoot hand-held at all focal lengths without blurring whether shooting fast moving sports from football and car racing as well as events under low lighting conditions.

The SP 70-300mm is constructed with one LD (Low Dispersion) and one XLD (Extra Low Dispersion) lens which prevent chromatic aberration, resulting in clear, high contrast and color-accurate digital image captures. This lens is also digitally integrated (Di) which means that it has been optimized for digital imaging, providing outstanding performance for DSLRS with full-frame and APS-C format sensors as well as with 35mm film cameras.
---

With a 180 degree angle of view, the world is a very different place. And the Panasonic 8mm full-frame Fisheye lens captures that view brilliantly with 10 elements in 9 groups (1 ED lens) to minimize chromatic aberration and distortion, multi-coating to minimize ghosts and flare, and a stepping motor for smooth and silent focusing.

When used with a Panasonic G Micro System camera, the lens operates with full contrast auto focus, focusing as close as 4". Seven blades give the aperture a rounded shape that produces an attractively smooth effect in out-of-focus areas (the famous and elusive bokeh). Sheet filters such as gels may be used on the rear element for more creative options.
---
Sony 70-300mm F4.5-5.6 G SSM
Get update with our newslater (it's free)
Cat :
Camera & Camcorder
,
Electronics
,
News on Gadget
, tags:
camera pictures
,
Descriptive Camera
,
images of cameras
,
photo to text
,
photos of cameras
Comment For Descriptive Camera – Take photos in a Text