by guestfans posted on Sunday, May 6th 2012.
---
---
exactly
Descriptive Camera – Unique camera that use for take a photos in a text form
Introduce a Descriptive camera, a genius camera that could take a photos as a text. May it is not exactly about this mean. You will know how this camera will work effective for you. However, it will be a nice function for some of you that need to take a description for some photos.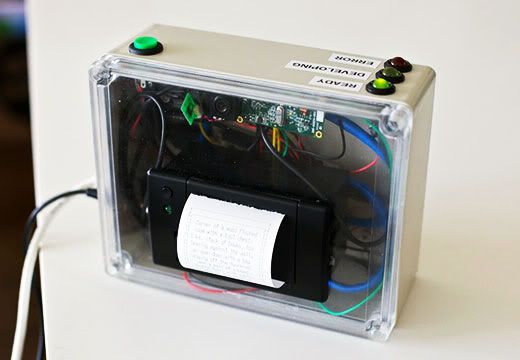 Descriptive Camera – Take photos in a Text
Almost of all cameras can certainly produce output in the form of images or pictures. But, a New York University students now develop a camera that can describe the image in the form of words or text. Of course it is amazing remembering he is a student can build a unique camera with a simple forms.
Name of this unique camera is Descriptive Camera. The camera itself was developed by Matt Richardson, who is a computer programmer as well as photographers. According to him, Descriptive Camera works by capturing an image and send that image to the Amazon Mechanical Turk. Once delivered to the Mechanical Turk, then the description of the images will be processed and then the results will be forwarded back to the camera in 6 minutes. Well, know we are know how this camera can work exactly.
In other words, Descriptive Camera does not process the image in the form of text automatically, but must be seen first by someone who was in the Amazon Mechanical Turk, then this person sent back to the image data in the form of Descriptive text to the Camera.
A thermal printer will then print the text in the description of Polaroid style. The idea is quite interesting, I think these cameras will be very useful, especially for those who have a shortage in sight. Even you are a normal people, Descriptive Camera will still useful to make a short description for your image.

Descriptive Camera – Take photos in a Text
Related to Descriptive Camera :
Get update with our newslater (it's free)