Acer Aspire S7 Ultrabook Windows 8 – Touchscreen 1080p Resolution
Acer Aspire S7 Ultrabook Windows 8 Featured With Touchscreen and 1080p Resolution Make a Perfect Ultrabook
Look and see a beautiful shape from this Acer Aspire S7 Ultrabook Windows 8. On my first looking I feel in love with this perfect Ultrabook. You know, as Ultrabook Acer bring a touchscreen technology and 1080p resolution. It is really a big deal and big reason to get ready purchase by many customers, though we need to see it next time.

Acer Aspire S7 Ultrabook Windows 8 – Touchscreen 1080p Resolution
As known that besides showcasing Acer Iconia W510 and Acer Iconia W700, Acer also showcased ultrabook that running with OS Windows 8 at the Computex 2012 event in Taipei. Acer Aspire Ultrabook called S7 that equipped with a touch screen technology with 1080p resolution and available on two different sizes, which is 13.3 inches and 11.6 inches.
Acer Aspire S7 Ultrabook Windows 8 with a wide 11.6-inch screen is Ultrabook the world's smallest form factor, it has a thickness of 12mm Ultrabook. I think this point also special of course.
Acer Aspire S7 Ultrabook Windows 8 with a 13.3-inch screen size comes with a battery that is able to support these devices up to 12 hours, while the battery life 11.6-inch Acer Aspire S7 is only 9 hours in normal use. Now one of the different with Acer Aspire S7 Ultrabook Windows 8 13.3″ and 11.6″ is on the battery endurance. However, it is long enough since if compare with another Notebook or Ultrabook it is really good.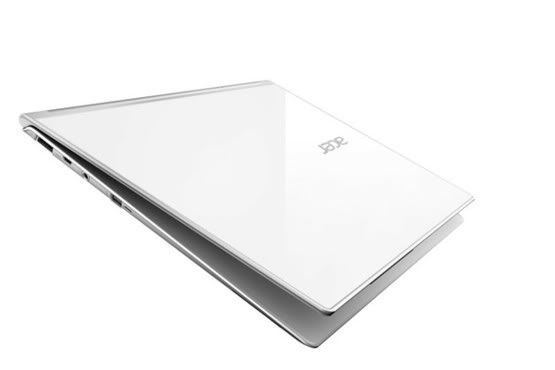 Interestingly, both models Acer Aspire S7 Ultrabook Windows 8 can be opened to 180 degrees. Unfortunately there is no information about the availability of this Ultrabook on the market and the price offered. So, we need to wait a little time before we can see this Acer Aspire S7 Ultrabook Windows 8 ready stoct on the market.
Related to Acer Aspire S7 Ultrabook Windows 8 :
---
Acer Aspire S3-951-6432 Notebook comes with these specs: 2nd Generation Intel Core i7-2637M Processor 1.7GHz with Turbo Boost Technology up to 2.8GHz, Windows 7 Home Premium, 13.3" HD Widescreen CineCrystal LED-backlit Display, Mobile Intel UM67 Express Chipset, 4096MB DDR3 1066MHz Memory, Intel HD Graphics 3000, 240GB Solid State Drive, Built-In HD 1.3MP Webcam, 2-in-1 Digital Media Card Reader, Dolby Home Theater v4 Audio Enhancement, 802.11b/g/n Wi-Fi CERTIFIED, Bluetooth 4.0+HS, 2 - USB 2.0 Ports, 1 - HDMI Port, 3-cell Lithium Polymer Battery (3280mAh), Up to 7 hours of battery life, 2.93 lbs. | 1.33 kg (system unit only), AC Power Adapter, AC Power Cord, Wireless Setup Card, Registration/ Limited Warranty Card, Microsoft Office Starter 2010, McAfee Internet Security Suite (60-day insert)
---
Laptops don't come much thinner, lighter, and sleek-looking than the Acer Aspire S3. It measures just a half-inch thick and weighs less than three pounds, and its cool-to-the-touch brushed aluminum finish makes this 13.3-inch ultrabook a definite head-turner. The S3 is powered by an Intel processor and 4GB of RAM, and includes a hybrid drive that combines a 320GB HDD for accessing files and a 20 GB SSD for storing the operating system.
---
Acer Aspire TimelineX AS1830T-68U118 Notebook comes with these specs: Intel Core i7-680UM processor, Windows 7 Home Premium, 11.6" HD Widescreen CineCrystal LED-backlit Display, Mobile Intel HM55 Express Chipset, 4096MB DDR3 1066MHz Memory, Intel HD Graphics, 500GB 5400RPM SATA Hard Drive, Built-In HD 1.3MP Webcam, Multi-in-1 Digital Media Card Reader, 2nd Generation Dolby Sound Room Audio Enhancement, 802.11b/g/n Wi-Fi CERTIFIED, Bluetooth 3.0+HS, 3 - USB 2.0 Ports, 1 - HDMI Port, 6-cell Li-ion Battery (5800 mAh), Up to 8 hours of battery life, 3.09 lbs. 1.4 kg (system unit only), AC Power Adapter, AC Power Cord, Wireless Setup Card, Registration/ Limited Warranty Card, Microsoft Office Starter 2010, McAfee Internet Security Suite (60-day insert)
Get update with our newslater (it's free)
Cat :
Computers
,
Laptops & Tablets
, tags:
acer aspire 11.6
,
acer aspire laptop
,
acer aspire laptop review
,
acer aspire s7
,
Acer Aspire S7 Ultrabook Windows 8
,
touch screen notebooks
Comment For Acer Aspire S7 Ultrabook Windows 8 – Touchscreen 1080p Resolution